Good News Story – Sending care to our clients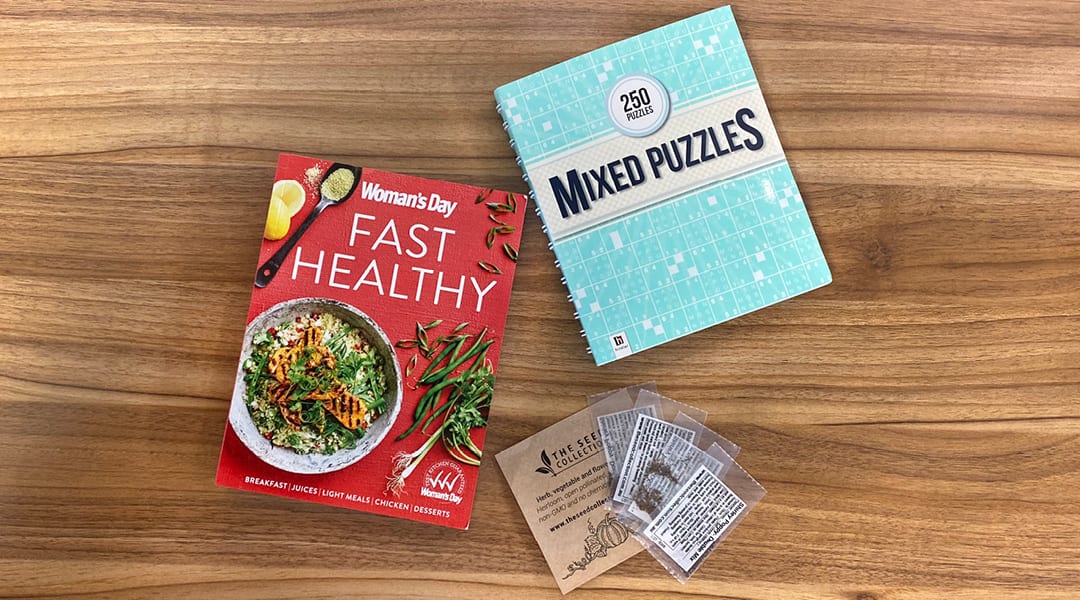 Social Support is a group for older people to meet and make new friends through various and diverse activities. Because of COVID our activities have moved online onto the Zoom platform. Although we are unable to meet physically meet and socialise in person, our thoughts are always with our clients. And so our Social Support clients recently received a lovely surprise in the form of a care package on their doorsteps from Your Side! To help them with social isolation during these times, where they are at home a lot more, our team has continued to be creative in our care and have put together a fun package filled with meaningful activities for them to keep busy.
The pack included:
A puzzle book to stimulate the mind.
A recipe book of simple healthy meals.
A packet of seeds to grow in time for Spring.
An expression of interest to participate in a knitting project.
An expression of interest to make your own face masks to protect you and others from the spread of COVID-19.
What a thoughtful and wide range of activities to keep brains engaged and active! The care package was received with much enthusiasm and joy. We had many clients calling to tell us how much they've loved it – with one client particularly looking forward to "getting stuck into the puzzles."
One happy client said:
"I would just like to say a BIG thank you for the two most welcoming books you sent me. I just love looking at recipes and I also like doing puzzles. I do one every night so that will come in most handy and the cookbook will give me new ideas for my dinners," – Jean Wilkinson, 84 years old.
It has also helped our Social Support group stay connected and has become a fun topic for them to bond over as they continue to meet online on Zoom – so much so there will even be a Friday Chit Chat session on the 4th of September dedicated to discussing puzzles! In addition, our Social Support group has been running online activities on Zoom such as Yoga, Trivia, Cooking with Jen and more. You can find out what's on in the latest calendar by clicking HERE.
This care package won't be last! Our care packages will be part of a series of that will be sent to clients with some being themed.
For more information or to book a Social Support activity, contact Jennifer on 1300 134 332 or email customercare@yourside.org.au