Meet Carer Gateway Consultant – ANUGRAHITA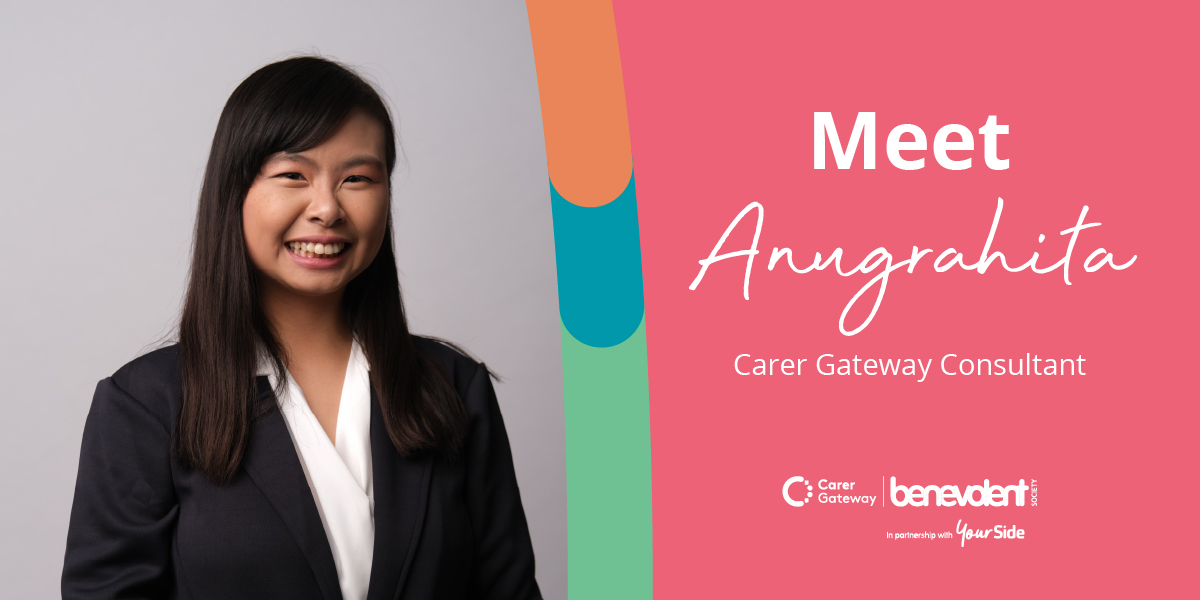 Why did you join Your Side?
I originally joined Your Side to complete my first social work student placement. At that time, I helped the DARTS, CHSP Social Support, and NDIS team. Your Side has a very welcoming and friendly work environment. I knew this would be an excellent place to work and nurture skills as professionals. Luckily, after completing my placement, I got offered the Customer Care Consultant role for the Carer Gateway team in March 2020. Since then, I have been working part-time in Your Side, even after I graduated my Master's degree at the beginning of 2021.
What is your favourite thing about working with and for carers?
I have always admired the concept of 'unpaid' carers. It takes significant strength for someone to set aside their own necessities and prioritise other people's needs, even if it is for their loved ones. The carers I have gotten to know are very resilient with interesting stories and perspectives about life. In a nutshell, it is just lovely to help them while learning some important life lessons and listening to each unique carer story.
In your experience when do you think carers need the most support?
It is a very subjective matter for every carer but in my observation, usually, the vital moment would be during an emergency. Some carers might be prepared for the worst. Nevertheless, most of the time, carers do not know where to go and what to do during emergencies. When people panic, generally it is hard to think clearly. Therefore, they will require more support during that time.
How do you think the Carer Gateway improves care and wellbeing of carers?
The Carer Gateway is a program funded by the Australian Government dedicated to all carers in Australia (no matter their residency status). The Carer Gateway offers various services (respite, counselling, peer support, etc.) that help carers through their caring journey and personal goals. Our role as consultants is to help identify and discuss what can be done differently to improve their caring circumstances. Consultants always try their best to pull out some helpful resources and link them up with services to assist in their caring role. Therefore, I believe our presence gives them opportunities to nourish their life skills as carers, which hopefully improves their wellbeing.
Can you give us an example of a carers good news story?
I have so many good news stories, but the story that stands out the most is with a carer who is a single mother and speaks Indonesian. It was my first time realising that coming from a culturally and linguistically diverse background brought a specific benefit to this role. I have been supporting their little family for a while, and I can see how her caring situation has improved significantly since the first time I spoke to her. It was challenging to help her navigate the Australian healthcare system due to language barriers but it was a rewarding experience when I received a genuine 'thank you' from her.
Is there a personal experience with carers that you would like to share? Or do you have a lived experience?
I would like to share my personal experience working with carers and from my perspective as an immigrant. I like how the Australian Government provides their residents with lots of services, especially for carers. I often make comparisons to the social situation in Indonesia, my home country. To my knowledge, Indonesia does not have any national carers support as everything is mostly community-based. For instance, until last year, my mother supported my 92 year old grandmother before she passed away. Fortunately, our family could afford a paid carer to look after her. In Australia, that privilege is rare because the in-home worker's cost is generally expensive, and that is why some people choose a nursing home instead. It is interesting to observe and compare the carer experience between the two countries, which also made me feel grateful for something I previously took for granted.