More Hours of Care at Home for Richard & Ann Marie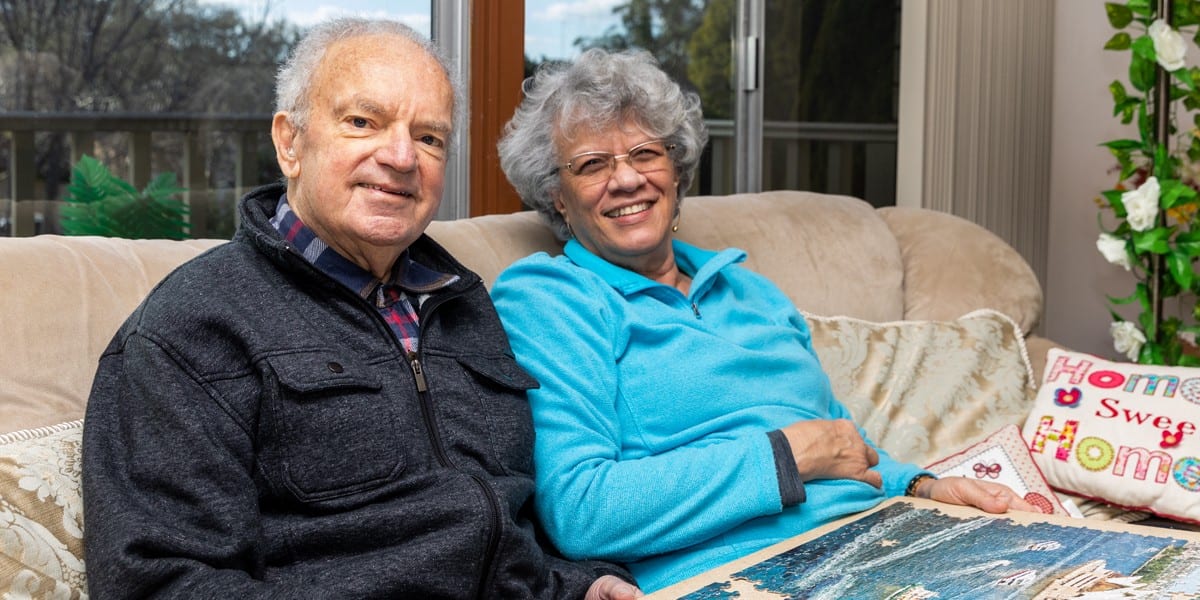 "Efficient, professional, kind-hearted and empathetic – Your Side are simply marvellous. Their home care is absolutely wonderful! We love staying independent at home, but couldn't do it without them."
– Ann Marie and Richard, Level 3 Home Care Clients
A Home Care Package is a type of government funding to help you remain living independently at home for longer. It is provided by the Australian Government to help people aged 65 years and over to obtain the in-home care and support they need to stay living safely and independently in their own home for as long as possible.
This means you are given funding to help cover the cost of your coordinated care plan and you decide how it is allocated. This approach gives you more choice and flexibility about the types of services and supports you need and want.
Home Care Packages are available for:
Anyone who needs coordinated care and support to remain living in their own home.
Younger people with a disability, dementia or other special needs that cannot be met through other specialist services.
There are no minimum age requirements for this package; however it is not available to visitors to Australia or people requiring temporary or short-term care.
For Richard, who is 80 years old and has dementia, and Ann Marie, his wife and primary carer who suffers with her own health challenges, the Level 3 Home Care Package is tailored to suit their specific needs:
Respite care a few hours a week with a carer that can take Richard out so Ann Marie can have a break.
Occupational Therapy and a cardio exercise bike for Richard to improve his physical health and wellbeing.
Domestic cleaning and gardening services to take pressure off Ann Marie around the house.
An electric bed so Richard can get in and out of bed with ease and assist him with breathing to allow for a restful sleep.
Convenience meals on certain nights so Ann Marie doesn't have to prepare meals 24/7 when she is feeling exhausted.
An experienced, kind and calm Care Manager doing all of the work and coordination for you and being on the other end to offer emotional support and practical advice.
"Support, assistance, emotional well-being with a holistic approach – that's Your Side! Their home care team make our journey more manageable. Thank you from the bottom of our hearts."
– Ann Marie, Home Care Primary Carer
Home Care Packages aim to provide practical support and services so that you can age comfortably and safely in the familiarity of your own home?
Home Care Packages are tailored to each individual's needs. You are assessed at one of four levels and that level translates to an amount of money that you can spend on care through a registered provider:
| Package level | Level of care needs |
| --- | --- |
| Level 1 | Basic Care needs – approximately $9,033.75 a year |
| Level 2 | Low Care needs – approximately $15,892.10 a year |
| Level 3 | Intermediate Care needs – approximately $34,580.10 a year |
| Level 4 | High Care needs – approximately $52,421.30 a year |
You can use that money to pay for services that YOU choose. Support falls into categories from nursing to domestic assistance, social support, home modifications / mobility aids, daily essential activities or assistive technology to make getting around your house safer and easier. It's up to each person to talk with their provider to put together a package of support that best suits them, within the budget provided. A good provider will help someone work out what services will work best and review the mix regularly.
Home Care Packages with Your Side with give you:
MORE hours of care, support and services.
MORE tailored solutions such as cleaning, gardening, transport and mobility aids to suit you.
MORE expert advice & guidance from a dedicated care manager.

One all-inclusive management fee. No hidden costs.
For more information or help signing-up to a Home Care Package call 1300 134 332 and ask for Amanda, Tracey or Bojana, or email hcp@yourside.org.au.
Time is precious. That is why Your Side gives you more hours of in-home care for less.