NSW Volunteer Awards 2020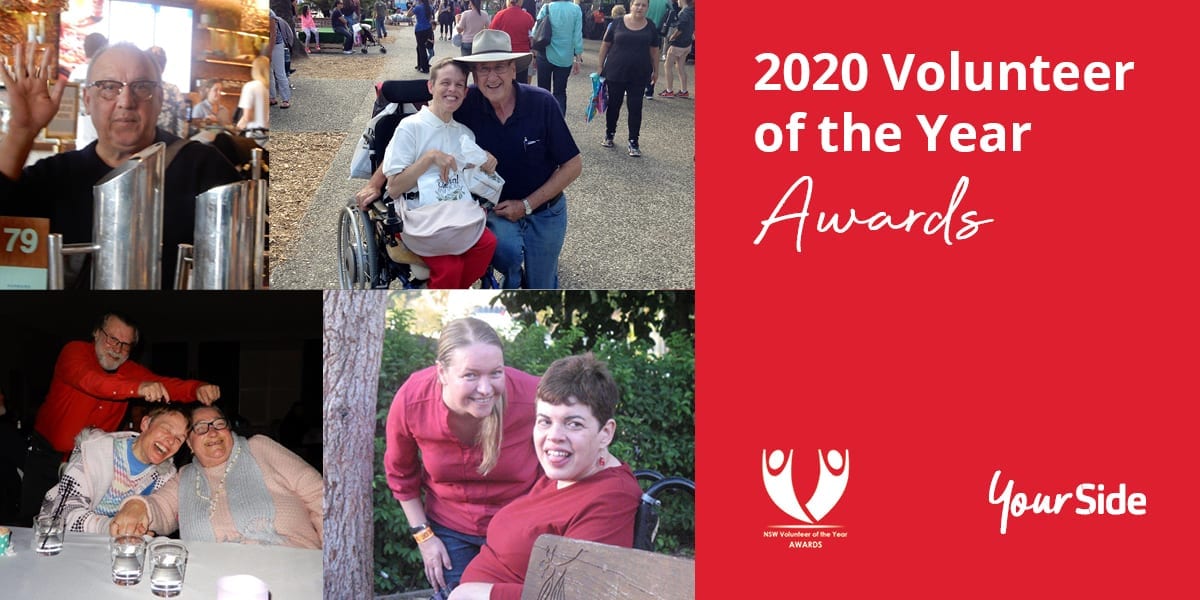 The NSW Volunteer of the Year Awards has grown to become one of the largest celebrations of volunteering across the country. The Awards celebrate the efforts of volunteers across seven different categories.
In the 2020 NSW Volunteer of the Year Awards, Your Side is delighted to announce that we have nominated the following people who are amazing volunteers supporting our organisation:
ARDI AMIGH – Senior Volunteer of the Year
Ardi is dedicated and has been volunteering with Your Side at least twice a week since 2017. We love how he is very interactive and engaging with Your Side clients.
MARK McMAHON – Senior Volunteer of the Year
Mark has been a volunteer with Your Side since 2016. He is a valued member of Your Side support team and enjoys helping our clients. He always steps in to help even when there are unexpected changes.
BERT OOSTERHOFF – Senior Volunteer of the Year
Bert is one of our longest serving volunteers and has been with Your Side since 1999. Over the past 20 he has been an amazing companion for Your Side clients and a friend to other volunteers. Bert recalls in one year he drove buses for a total of 9,311km and helped transport 538 clients from their homes to various social venues. Wow!
SUSAN VAN DEN BERG – Adult Volunteer of the Year
Susan has been volunteering at Your Side since 2014 and is so generous with her time. She even helps on weekend evenings.
HARRISON KWA – Young Volunteer of the Year
Harrison has been a volunteer with Your Side since 2019. He is a valued member of the team and helps with administration tasks in the office – even coming in during school holidays. He is a joy to work with!
Shout out to all our volunteers, thank you for your dedication and generously giving up your time to support us. You are all incredible and greatly appreciated!
We also want to thank our wonderful Student and Volunteer Coordinator, Gayaneh Giragol, who works behind the scenes to organise our Volunteer Program. We're also excited to announce her nomination at the NSW Volunteer of the Year Awards:
GAYANEH GIRAGOL – Excellence in Volunteer Management
Gayaneh has been a role model for Your Side's many volunteers and students. She is supportive, resourceful and dedicated to making an impact. With Gayaneh on board, volunteers and students feel supported and motivated to assist the vulnerable people in our community.
Nominations for the NSW Volunteer of the Year Awards close on Friday 3 July at 5pm (AEST). You can find out more information or enter HERE: https://www.volunteering.com.au/volunteer-awards/