Q & A on Home Care Packages with Jane Meccelli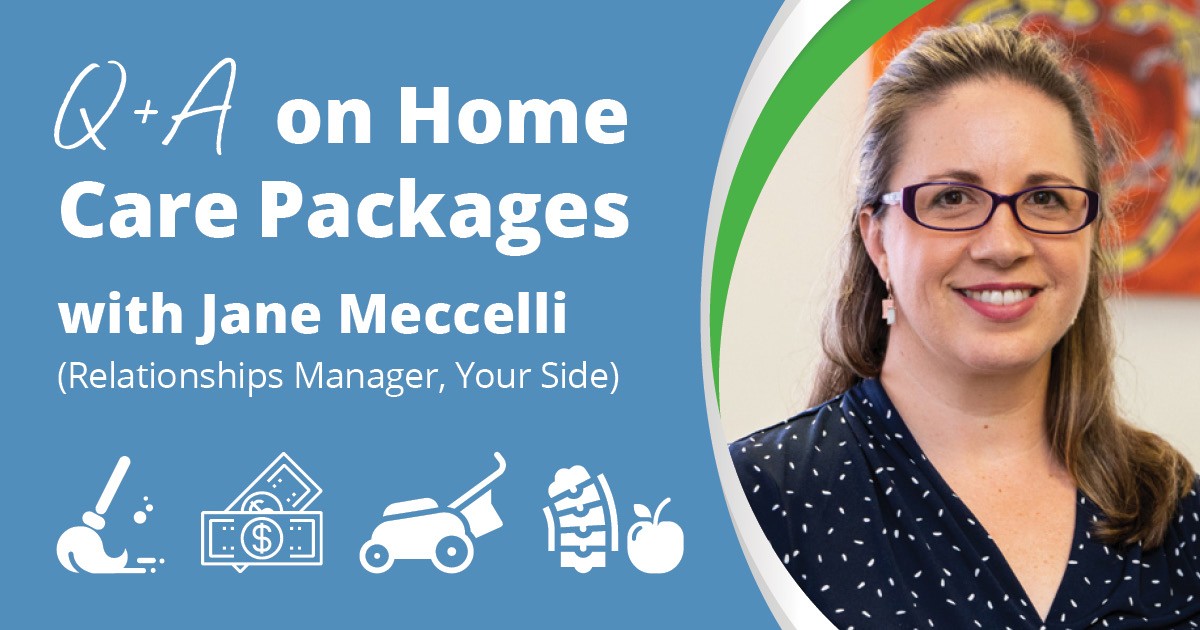 How do I get approval for a Home Care Package?
You call My Aged Care on 1800 200 422 and they will arrange comprehensive assessment with an Aged Care Assessment Team. Alternatively you can call Customer Care at Your Side on 1300 134 332 and they can help you to arrange a new My Aged Care assessment.
What do I need to pay for Home Care Package services?
Home Care Packages have two costs. There is a daily basic care fee which can be negotiated and if you are on a part pension or you are self-funded you need to complete an income and asset test through Centrelink to determine if you need to pay an income tested fee. Providers must charge the income tested fee but don't worry, our Home Care Package team are experts at helping you understand all the costs you need to consider and understand.
Why would I use a Home Care Package if I am on Commonwealth Home Support Program (CHSP) services? How are they different?
We recommend you access a Home Care Package when some of your basic living tasks are becoming difficult to manage on your own. The advantage of a Home Care Package is that you have a budget to spend on services and equipment to keep you living at home for longer. Commonwealth Home Support Program services are one off services and don't offer flexibility which means that if you are approved for domestic assistance under CHSP that is the service you get. You can't request gardening instead of domestic assistance.
What is the Home Care Package budget and what services can I receive?
The Home Care Package budget starts from approximately $9000/year for a Level 1 Package up to approximately $52,000/year for a Level 4 Package. The services are consumer directed which means you are in control of services you receive. The services can be basic such as cleaning or assistance with showering or you can request support to help prepare meals or to access exercise physiology to remain physically fit and active for longer. The amount and type of services you receive depend on your budget and needs. Your experience Home Care Package Consultant at Your Side will help you understand these costs and options. You can see our current Home Care Package costs here.
Can I keep my worker who I really like?
Yes absolutely. The difference at Your Side is we support clients to feel safe in the care they receive – which often means using a support worker you feel comfortable with.