Your Side Budget Response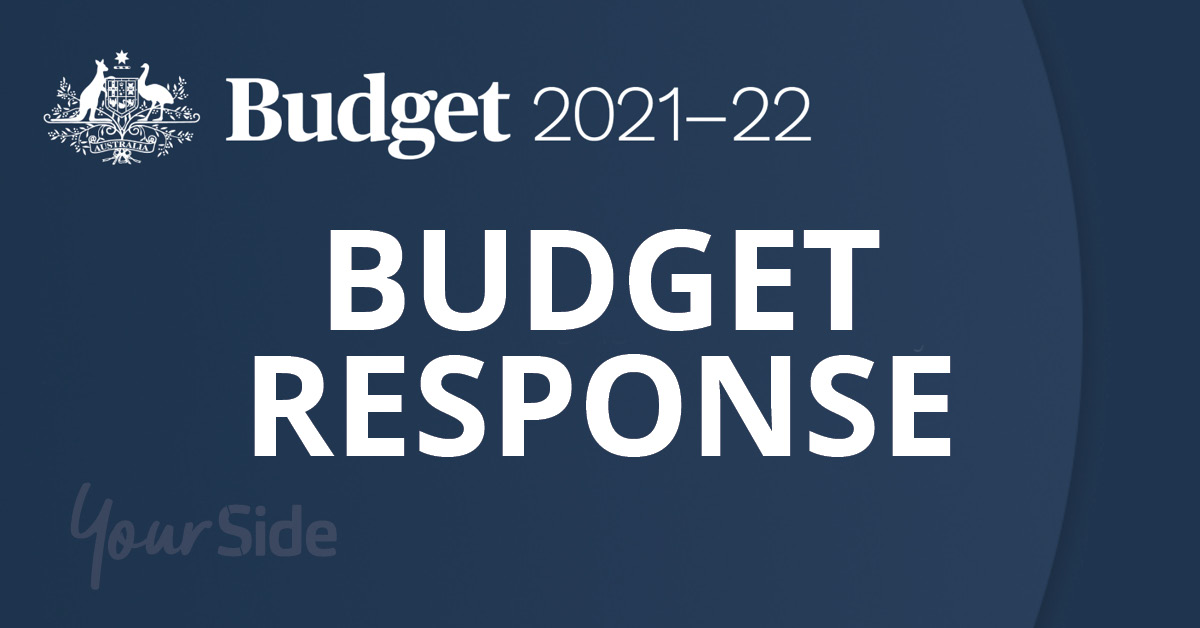 Danielle Ballantine – CEO
$17.7 billion over five years is a good start to drive much needed reform to the aged care system as recommended by the Royal Commission. Your Side are pleased that this Government has accepted some of the Royal Commission's recommendations and committed to implementing them, after 20 years of reviews and recommendations that have not been acted on. However, this reform project is enormous, and will require ongoing commitment to fund in future years.
It is welcome that there are 80,000 Home Care Packages being released over the next two years. However, this will still leave 20,000 Australians on the waiting list for the cost effective type of care many prefer – home based, independent in the community with residential reserved for those with more complex health needs. The staged reduction will give the sector and government time that is needed to focus on finding the workforce to deliver this care.
We welcome the announcement of 33,800 new training places to train more workers for the sector. We are focused on how we as a sector will attract and retain the hundreds of thousands of workers we will need over the coming decade. This requires ongoing and significant people infrastructure investment.
There is a serious workforce issue – the number of people who will require care in the next 20 years is enormous. Paying for it and recruiting a workforce to deliver it will be a big challenge. On some estimates Australia will need 900,000 to 1 million extra care workers by 2050 – about 4 times what we have now. We need government and the sector to work together to solve this problem, and the taxpayer to be willing to fund it. All of us will grow old one day and be the beneficiary of this care so we need to start paying for it adequately now. We also need clear leadership – at both a government level through bipartisan support and the sector implementing the changes that they have control over.
Aged care workers are some of the lowest paid workers in our entire workforce, for work that is demanding, rewarding and skilled. Without increasing wages to above "fast food level rates" at around $21 per hour, we simply won't get the quality lift in care that we all want to see. So it's really welcome that the government has allocated $17.7 billion to aged care but we MUST make sure it's not tied up in red tape and regulation, and some of it goes to increasing wages. Increasing wages will go a long way to not only valuing the workforce, but retaining them (otherwise, they leave to take on work with higher pay) and developing them. Working in aged care needs to be valued as professional and valuable career choice.
The Commonwealth Government celebrates that $15 billion in infrastructure spend will create jobs. The tone from government is $17.7 billion in aged care will fix a problem and is presented as a welfare spend, but there is an economic argument to invest in aged care.  $1 billion net investment in care industries can lift the economic activity (in NSW alone) by $10 billion a year by generating more jobs and freeing up informal carers to participate in the workforce.
Healthcare and social services is our largest and fastest growing industry and employs about 14% of workers. Investment in the care sector will deliver a direct employment boost almost five times greater than that generated in construction. The maths is pretty simple in why we should care about care.
There are some additional funds for respite care for unpaid carers in the budget. As a current provider of Carer Gateway, Your Side stands with unpaid carers, and recognises that the relatively small investment in a break for carers will allow them to continue to provide the unpaid care that is worth about $60 billion a year to Australia.
What older people don't need is tweaking around the edges of existing policy, funding and care models. Older people need to be at the centre of the design – not what suits government or a sector that has a few very large players and many very small, local organisations delivering care. We have a multi-layered complex system – we must make sure people can find the right door to get access to the services they need.